Studio D: Arts School for All Abilities
Form community, grow, and find joy at Studio D
Our classes take place in the dance studios at the Center. They are led by professional teaching artists and licensed occupational and physical therapists. Class age groups include Kinder, ages 4–7; Youth, ages 8–12; Teen, ages 13–17; and Adult, ages 18+. Trained volunteers are also a part of every class, providing an additional layer of support and encouragement.
Class size is set at 12 students.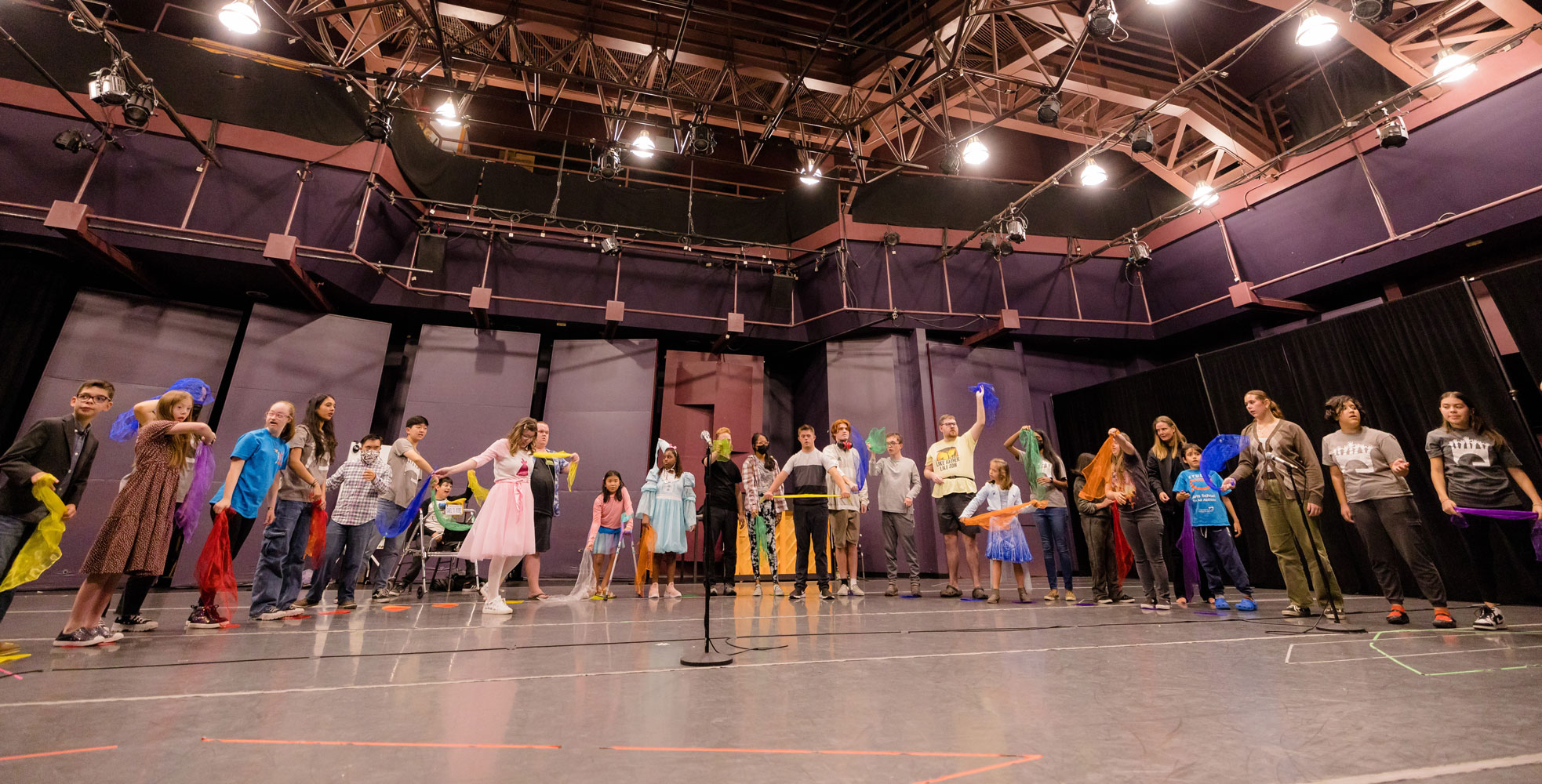 Class elements
Welcome: To greet one another and prepare for class
Explore: To awaken the imagination with imagery and introduce the concept of the day
Warm-Up: To warm-up the body or voice
Music: To practice new learning through music
Create: To build on the concept of the day and practice technical skills
Reflect: To affirm today's experience
Celebrate: To spread joy and build community
Class Curriculums
Our classes offer students the opportunity to exercise, engage with their peers, and develop an appreciation for the arts.
Dance & Music
Led by a dance instructor and musician, students will learn several dance and music concepts that will encourage self-expression and creative choice making. The dance teacher leads movement exercises that develop the students' balance, endurance, mind-body connectivity. Additionally, the musician teaches various music concepts. All exercises are adaptable and the instructors tailor their lessons to the students' abilities. Classes offered for Kinder, Youth, Teen, and Adult groups (ages 4+).
Learn more
Musical Theatre
Led by a vocal coach and dance instructor, students will explore the three components of musical theatre—singing, dancing, and acting. Each class focuses on Broadway-style choreography, interactive theatre games, and vocal techniques. Additionally, the class will learn songs and choreography from a specific musical during the session. Class offered for Youth, Teen, and Adult groups (ages 8+).
Learn more
Health & Safety: The following protocols are currently in place for all Studio D classes
Masks are recommended for all staff and students
Temperature checks upon arrival
All students will be signing in through our contact tracing app, SwipedOn
All equipment is disinfected after each use
Class sizes are small to allow for physical distancing
A minimum of fifteen minutes in between classes to let the air circulate properly before a new class may enter