Students Find Self-Confidence Through Art in Summer at the Center
This past July, Summer at the Center celebrated its 31st year with 31 students who came to Segerstrom Center for the Arts as a part of our yearly program that empowers high-risk youth through hands-on performing arts training with professional artists.
Hoping to learn more about singing, dancing, and acting through participating in a two-week musical theater camp, many of these students grew their self-confidence, formed new friendships, and learned more about how to use the arts as an outlet in their everyday lives. To learn more about the specifics of Summer at the Center, its history, and the program itself, click here.
Documenting their experience on both the first and last day of the two-week camp, two students shared a bit about their time in Summer at the Center and how they grew over the course of the program.
Jennifer stepped into Summer at the Center with a passion that was unmistakable, immediately lighting up when she got to share.
"I love any kind of art. I love creating things, and I especially love showing it to other people and seeing people show their work. You see their brain, their thinking, their emotion, their ideas."
At the start of Summer at the Center, Jennifer was most excited about exploring the arts in the way that many students get to during middle and high school. When Jennifer originally began high school, she never participated in any performing arts activities before.
"High school used to be a completely different domain for me, I hadn't practiced taking care of myself at all. My entire life was so focused on school and doing well."
Jennifer explained that while she was so focused on school and the pressure to succeed, there was a lasting toll it took on her mental health, leaving zero time to explore any of her passions as she was figuring out who she was and what made her happy. Now, as a student of Orange County Department of Education's Alternative, Community and Correctional Education Schools and Services (ACCESS) program, Jennifer's new high school experience looks different than that of a traditional school setting, and through ACCESS, Jennifer discovered Summer at the Center.
"I came here because I've always been super interested in dancing, but I've never actually put myself out there to dance, and this was an opportunity to come here to do that with other kids and have fun and not worry about anything."
While she originally was a bit more reserved when it came to performing, Jennifer slowly became more comfortable and decided that she would take on a solo in the performance, a decision that surprised even herself.
"I'm so happy that I got it, I didn't expect it! And I think I'm getting more comfortable singing it, I think I'm getting better every time!"
When talking about what made her feel the most comfortable in the program, Jennifer repeatedly mentioned that the connections built between students as well as students and staff created a space where she felt like she could learn and grow at her own pace.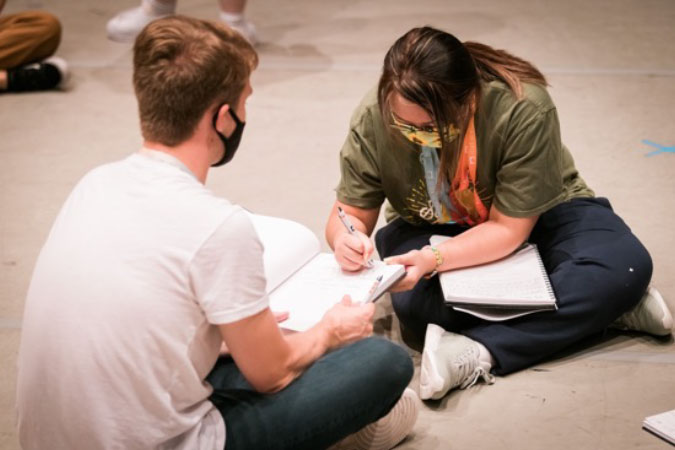 "I feel so safe and wanted. Everyone here is great, and when I wasn't feeling well mentally, there was a staff member who was really there for me and offered things that could help and I felt a lot better just having that support and having people there."
Coming into Summer at the Center, Nick was already very enthusiastic and eager to learn. While he came into the program with some theater experience, he was truly looking forward to expressing himself and exploring creativity with a bigger group of students.
"I did theater in high school and coming here I thought 'this would be a really cool thing for me to do!' This is a really cool place to get to be creative."
Nick was introduced to Summer at the Center through Orange County Department of Education's (OCDE) Division of Special Education Services, and he was excited to be a part of the first year that included students from the Special Education program.
"I love that they're bringing special ed and gen ed students together, I think that's pretty cool. And you can be yourself and be creative. They inspire us, we inspire them."
When it came time to get ready for the first performance at the end of the second week, Nick took a moment and was able to reflect on what the past two weeks had meant to him.
"I really loved building connections with students and staff, I made some new friends and great connections that I just never had before. Everyone's so patient with you, and what's so cool is that I didn't know is that the staff was going to be performing with us!"
And if he were to talk to someone who might want to do Summer at the Center in the future, he has one piece of advice.
"Be you, and be open to being yourself. This is a safe space, so just be you."
Summer at the Center 2022 was an incredible success, and we are so proud of Jennifer, Nick, and 31 years of students who have completed this camp here at Segerstrom Center!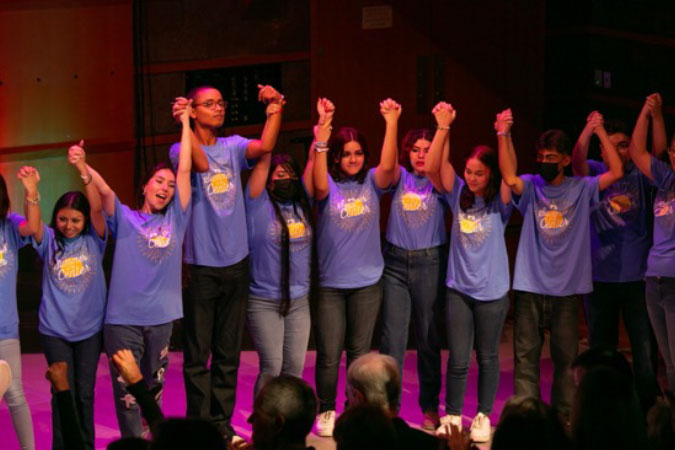 To support programs like Summer at the Center, visit here.