Hairspray cast member Helene Britany talks playing Shelley in the NBC Live Production and now on tour
Helene Britany has been working in entertainment all her life. Originally from New Jersey, she grew up studying musical theater, eventually finding her way to California to work in film and TV. After getting cast as Shelley in the NBC production of Hairspray Live! back in 2016, she rekindled her love for theater and was eager to be a part of the touring cast.
She made her national tour debut in Hairspray in October 2021 and has been playing the high-spirited Corny Collins dancer Shelley ever since.
We sat down with Helene to discuss her experience in both productions of Hairspray, making TikToks with her castmates, and the love she has for her character.
1. What is your favorite part of the show and why?

I have to say the school dance, which is the Madison. It's a lot of fun. It's the first time you see all of us together on stage, and even though we're separated and we can't dance together, it's kind of the first time you see everybody in the same room, and that's really cool. That's also my favorite dance of the show.
2. Can you walk me through the process of joining the touring cast of Hairspray?

I did Hairspray Live! back in 2016, which was on NBC. I grew up doing musical theater and I'm originally from New Jersey. Then I moved to California and I did more TV and film stuff. Doing Hairspray Live! reminded me of how much I love theater and how musical theater is the best. So then I was like, oh, if Hairspray ever goes on tour, I wanna do it. Back in 2020, they started casting, but then covid happened. So I had sent in materials, but then obviously everything shut down because of the pandemic. The next year in 2021, they started casting again—and my whole audition process was online. So then I resubmitted, and then I had callbacks, then final callbacks, and then I booked it. I've been on tour since October 2021.
3. How was preparing for Hairspray live different from preparing for the Hairspray tour?

It's crazy because for Hairspray Live!, we had almost three months of rehearsal just for one performance. The difference is we had two weeks to put up the tour. So the preparation is interesting because I feel like I rehearsed so much and for Hairspray Live! to do it in one shot. Then the cool thing about being on the road and having different energy every night is we can make little subtle choices that are maybe different from the night before and get reactions from the audience.
4. How would you describe your character Shelley?
I very much relate to Shelley. I really love who she is, and it's cool that I've gotten to play her in Hairspray Live! and on tour. I feel like when Tracy comes to audition for the show, she's like, oh my gosh, this is so cool. Shelley wants to be different, but she has to follow the rules because of being on the show. But I feel like she's really inspired by Tracy and how she wants to make things different and change things up. Tracy comes in with such a wholesome, beautiful spirit and I think Shelley's character wants things to change too. That's why in the show she gets a Tracy lookalike hairdo. She wants to be like Tracy because I think she's really inspired by what Tracy stands for and the change she wants for the world.
5. I know you love making TikToks backstage with your castmates. Do you have any other pre-show rituals?

I love staying hydrated. I make sure I have a gallon of water backstage. Honestly, TikToks are a really good pre-show ritual. I feel like doing a fun little dance or doing something that's not in the show before we get on stage is really fun.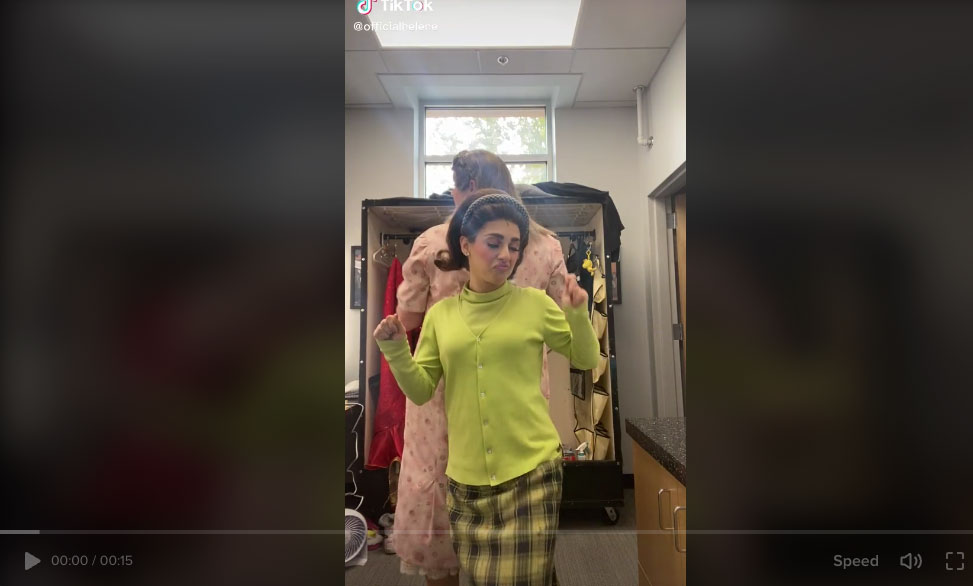 6. Have you been to Costa Mesa before? Are there any spots you hope to check out while you're here?

So I am originally from New Jersey, but I live in California, so I have been to Costa Mesa before. I'm very excited to go to Disney. I am a big Disney fan. I'll probably go a few times, so that'll be fun.
7. What do you hope Orange County audiences take away from seeing Hairspray?

It's such a positive, uplifting show. It deals with some hardships and some tough subjects that we need to talk about, but it ends happily. It's, in my opinion, the greatest finale of a musical ever. I mean, "You Can't Stop the Beat" is just one of the best songs and one of the best finales for a show. I just hope they take away the message and have a lot of fun.
---
You can watch Helene and the touring cast of Hairspray at Segerstrom Center for the Arts from April 18–30. Tickets are available here.